I've incurred more medical bills recently... so I'm hoping to seek extra cash to pay for the bills. Please have a look everyone! Prices are open to negotiation!

MORE NEW ITEMS UPDATED! Pics will be removed for sold items.

Payment
For Singapore buyers
- POSB Inter-Bank transfer (preferred), Cash in the mail (at buyers' own risk), Paypal. Meetups is only possible if you buy in bulk or if the items are heavy. Details of meetup will be discussed further in emails. However, payment is required first even for meetups. (Sorry!)
For overseas buyers
-
Cash in the mail in SGD or USD (at buyer's own risk), or
Paypal
(Sorry I can only accept paypal now).
I will not be liable for any additional cost incurred during the transaction, and/ or postage or Paypal fees.
For Paypal transactions by credit or debit cards, please add 5.4%+USD$0.30 on top of your total cost when sending payment.


Orders are confirmed and payment is expected when you receive a confirmation email from me. There will be no refund once payment is received. Please do not ask me to email you as I may forget. Leave a comment or email me instead if you are interested. My email is dybbuk_rei @ hotmail.com (remove spaces).

In cases where there are more than one buyer interested in an item, I will sell to the first person who confirms the purchase. Such email/ comments as 'I am interested....blah blah' will not be taken as a confirmation that you want to buy the item. If you are really interested in buying, please tell me 'I wish to buy.....' or 'I want to buy.....' It's best that you leave a comment here so others can see it. Thank you.
Shipping

I ship internationally. All items will be sent out by
normal post
.
Add USD$2 for registered.

All items bought will be shipped within 3 working days upon receiving of payment. (Usually on the day itself or one day after). Depending on where you are it'll take generally 6-12 days for the item to reach you. If there is any restrictions for imports in your country, please check before purchasing. I will not be responsible for any lost, confiscated or delayed items due to customs.
Buyers will have to pay for the shipping. Some of the items have shipping costs, some don't. Those that don't are usually the heavy ones. Just leave a comment if you want to ask about shipping. I guarantee that all items will be packed nicely and properly to ensure that no damage will be done during the shipping. Items are checked and all defects are stated here. I will not be responsible for any other defects that occurs in the course of shipment.
On to the sale!
NEW ITEMS UPDATED!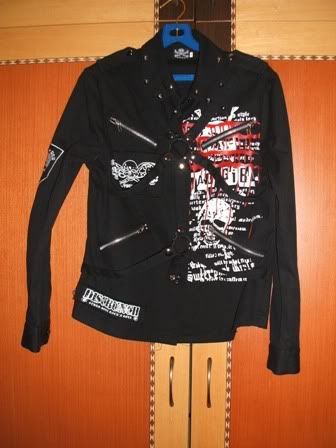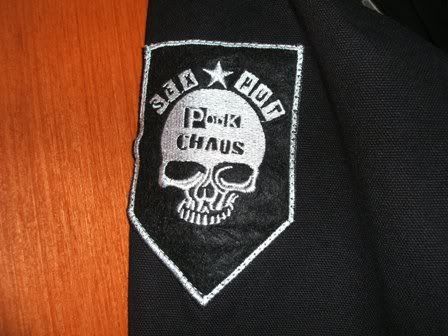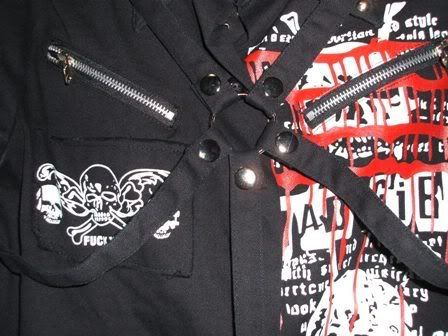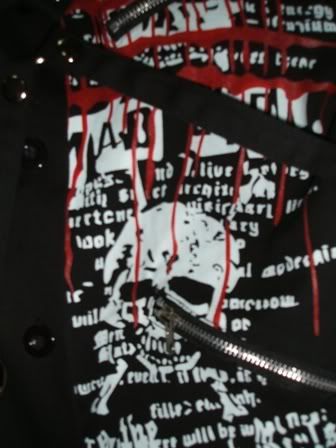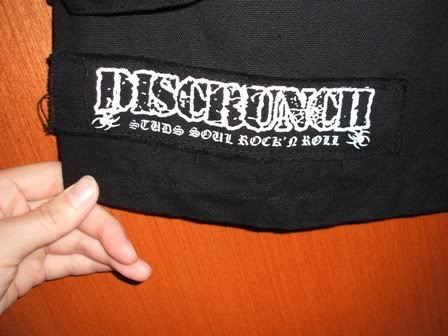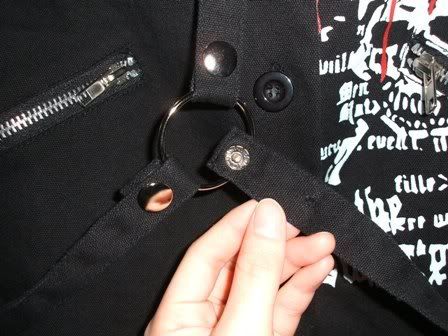 Gothic Punk Jacket
Worn a couple of times. Condition VERY GOOD!
Bought at around $100. Would like to get at least $70 back. It's a very gorgeous jacket. Selling cos I'm not wearing punk anymore.
One of the stud is missing (see last pic above), but it was like that when I bought it.
measurements: arm length 60cm, underarm 47cm, shoulder 38.5cm. Size M.
USD$70 + shipping
Can negotiate.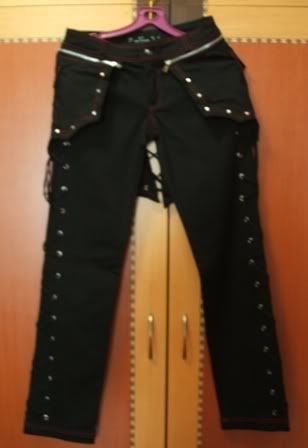 Front Back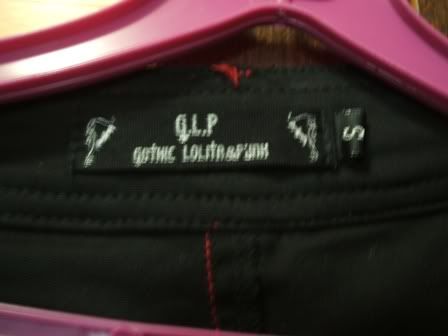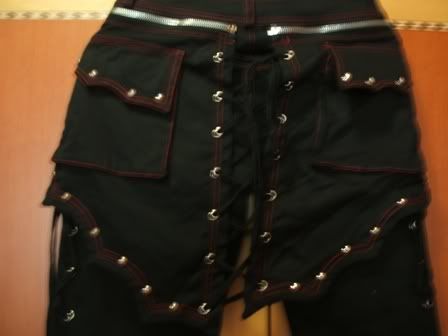 tag and detailing

GOTHIC PUNK PANTS with detachable 'bat wings' back flap.
Side of the pants is laced up with string.
Size: S (it feels more like a XS though)
waist 35cm
hips 40cm
length 93cm
Hate to let this go when I've never worn it before, but I couldn't fit into it. Got it really expensive from a shop so I'm hoping I can get at least USD$60 back.
USD$60 + shipping
Can negotiate.


Blue Batik tie skirt from Gold Coast
Free size. You can tie it how you like to fit your waist.
Length 45cm
Worn once.
USD$12 + shipping
Or nearest offer. SOLD


Little Black Dress
Bought in Australia. Worn twice.
bust 35cm
waist 31cm
hip 37cm
size 12. Slightly stretchable.
Very good condition.
USD$60 + shipping
Or nearest offer. SOLD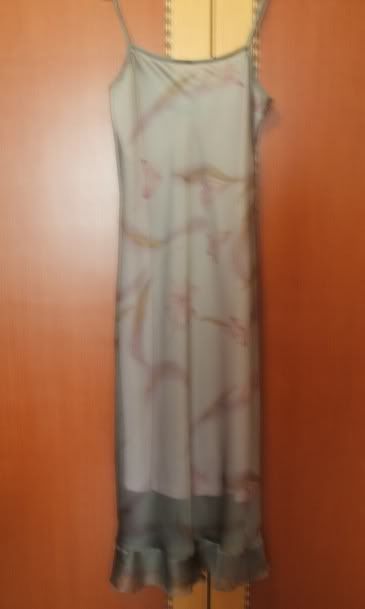 Light grey dress with pink linning
Bought in Australia, in a boutique.
Worn a couple of times. Very good condition.
Size 7. bust 35cm
Dress is slightly stretchy and clingy so it will fit the curves of your body.
USD$60 + shipping
Or nesrest Offer.


Gothic Punk skirt.
Worn a couple of times. It's in VERY GOOD condition.
The pictures doesn't show clearly, but the skirt is covered in back lace, chains and safety pins. There's a emblem of a spider web on the right hand side. Skirt is uneven in length, shortest is 35cm and longest is 50cm. waist 29cm, waist is elastic can stretch to max 49cm. But this is not very advisable as the skirt will not fall nicely then.
Hate to let it go but... I don't wear it anymore and hope someone will give it a good home.
Asking USD$20 + shipping $12 SOLD!


Off-white office blouse. Silk-like material.
bust 83
length 158
made in Japan.
Worn.
Bought at $60+, now selling only USD$20! + shipping

SOLD!


Cream office jacket/ blouse
Size: M
100% polyster
Worn
Bought at $60+, now selling only USD$20! + shipping SOLD


Pink tie-neck top
bust 35cm
USD$6 + shipping SOLD


L'Arc~en~ciel Awake Album!~

New! Only listened to once. I didn't even remove the lyrics booklet.
VERY GOOD condition!
Original! NOT bootleg!
Will be sent in a bubble envelop or bubble wrapped.
USD$10 + Shipping SOLD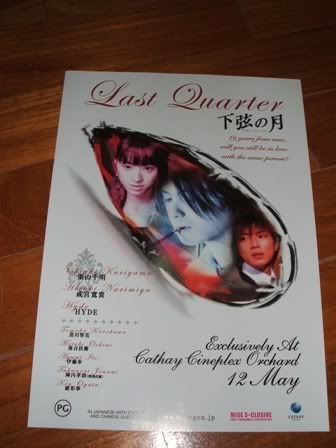 Kagen no Tsuki movie flyer (I have 3 of this) Two left!
USD$2 shipped!HYDE 666 album postcard (it only comes with the album!)
This has TWO VERY BAD FOLDS ON THE TOP HALF OF THE CARD.
It was already like that when I got it. >.< But I've kept it pressed under tons of magazines so it looks flat on the surface and you can hardly see the folds. But it is STILL VISIBLE. Pls note this!
USD$3 + shipping USD$1.50 SOLD! THANK YOU
mikaela_angel07</div>